Now i'm not claiming that my skin is perfect or even completely clear. i have never had incredibly bad skin, but the combination of being in college (not enough sleep, drinking every so often, etc) as well as using Maybelline 24hr foundation (which unfortunately did
not
work for me) made me break out terribly all over my cheeks. these products helped me get my face clearer than it's been in years and at an incredibly low cost :)
Here is a picture I just took of my skin right now..it looks a bit oily because I went on a walk for a bit before and just got back and hadn't washed my face before that picture. So please ignore that, as well as my brows and messy hair.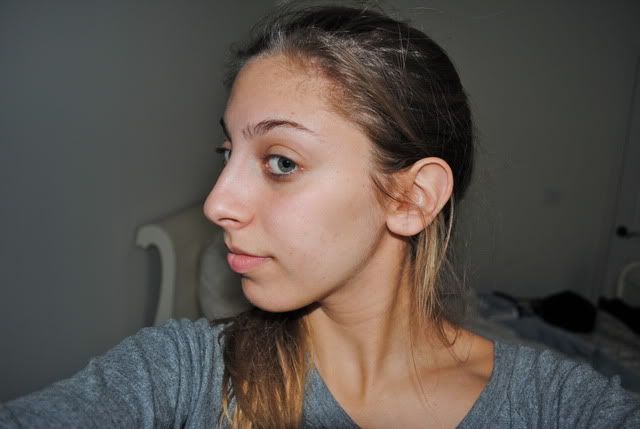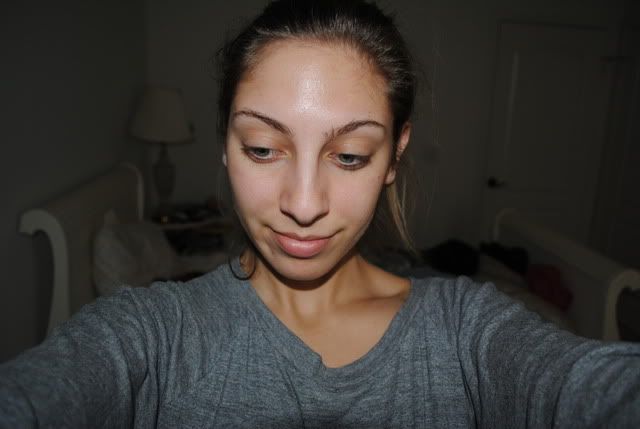 My Skin Type: My skin is quite normal, but can be on the dry side especially in the Winter. It's not particularly sensitive, but it can break out easily when I'm stressed.
Cleanser-Clearasil Ultra Daily Face Wash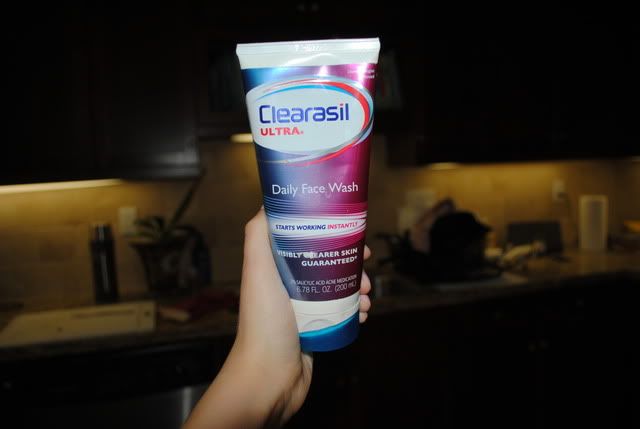 I have used this cleanser for about two years now and I adore it. It really helps prevent breakouts and clears up any current breakouts I might have. It is about $6 or so at CVS. It lasts me about four or five months and does wonders to my skin. I know that Clearasil also has another daily face wash but I'm not sure how that differs to mine. The other one is in a similar shaped tube/bottle, but is not metallic and has light blue and red.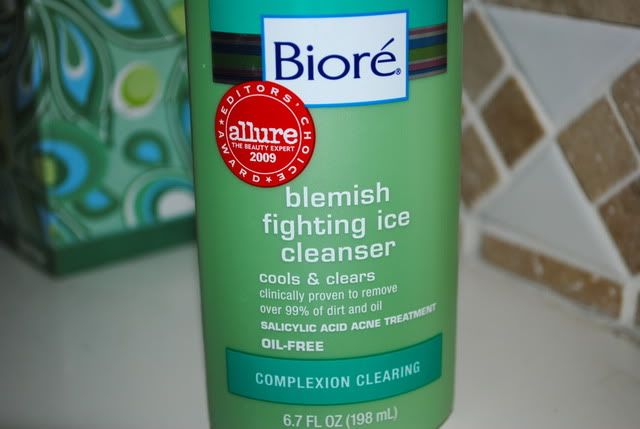 Another cleanser I use occasionally is Biore Blemish Fighting Ice Cleanser. I love this cleanser and used it for awhile when I was about fourteen or so (so four years ago). It smells minty but the smell isn't strong which I love. Before I ever used this, I assumed it would tingle when I was washing my face with it, but once I wash it off, thats when it starts to tingle! The sensation is not strong at all and by no means painful or uncomfortable. I find this cleanser to be a bit more drying than the Clearasil so that's why I don't use it as often.
Skin Care Tool- Sephora Collection Precision Pore Cleansing Pad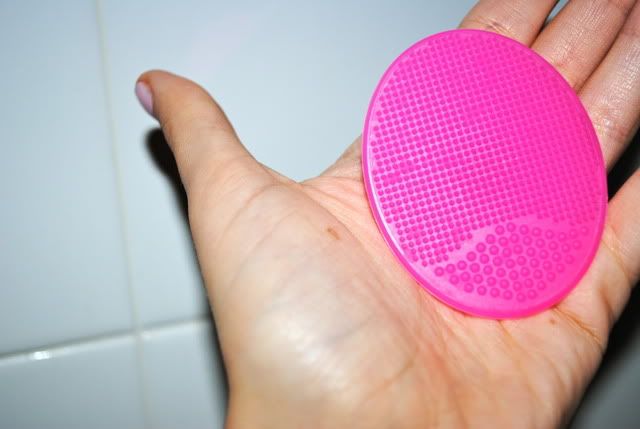 I absolutely adore this product and contribute a lot of my current state of my face to this. I picked this up from Sephora for about $5 and I am in love with it. This pad seems similar to the one L'Oreal has in their 360 Face WAsh, but I have never tried that one so I can't compare. I use this every night before I go to bed, but have heard some people use it twice a day. I get my face wet, get this wet and pour a pea sized amount of my face wash onto this. I then rub it around my face for about 45 seconds or so and then wash my face and wash the pad. It honestly feels a bit like a mini massage when I use it on my face lol I love it!! It really helps deep clean my skin, yet is gentle enough to use every day. While I reccomend all of the products in this post, this is the one I urge you to get. I use a face scrub a few times a week, but after using this one time, my skin was softer than it's been ever. It has helped greatly reduce a lot of redness in my face as well in as little as a few days! After a week of using this religiously, my skin tone is barely even ruddy anymore and a lot more even. Love this.
Face Scrub- Up & Up Scrub for Blemishes and Blackheads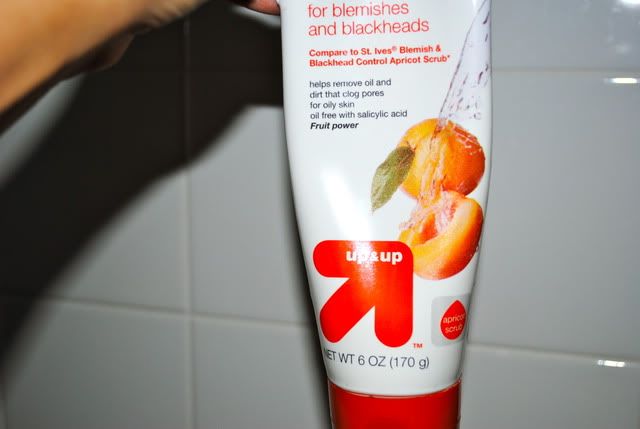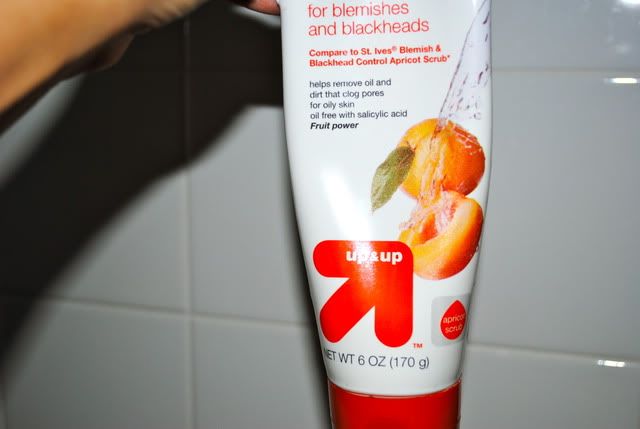 I love love love this scrub! Although I do think the pad I mentioned from Sephora is sufficient enough alone to use to exfoliate the face, I love using this one as well. I used to exfoliate my face maybe 4 times a week or so, but have cut down to only once a week since using the pad. This is supposed to be the Target brand/generic version of St. Ive's Apricot Scrub, but I find them to be incredibly different. This one smells a bit like medicine, while I find the St. Ives to smell a lot more like apricots. I also find this scrub to be more grainy and it feels a bit cooling on my face as well. I love this scrub a lot more than the St. Ives regardless of its smell because I feel like it does a great job exfoliating the skin. I wash my face and then use this. I leave it on for about a minute and then wash it off with warm water. It was only $2 at my Target. I'm not sure whatsoever, but I think this face wash has more medicine in it than the St Ive's blemish/blackhead scrub.
Mask- Queen Helene's Mint Julep Masque
I adore this face mask. It is very cheap (~$2) and smells great. It is very minty and invigorating and truly clears up any issues on my skin I might have.

WARNING: This product will most likely break people out the first time they use it. It is not causing acne, but instead is bringing up all of the exisiting pimples under the skin and bringing them to the surface so they can be treated. With a few nights of consisted use, it will clear everything up and the skin will look incredibly radiant and clear. I use this face mask twice a week and leave it on for about twenty minutes. I love it :)

Treatment- Clearasil Rapid Action Treatment Vanishing Cream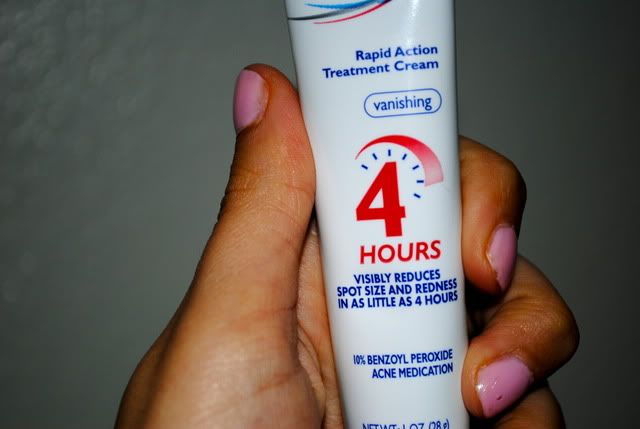 I use this product whenever I feel a pimple about to come on, but is under the skin. I will usually do the mask and then rinse it off, and apply this. The trick to applying this is to remember that less is more. I used to put quite a bit of this on a particular spot, but after reading reviews on makeupalley, I learned that your supposed to apply a light layer over the spot or affected area. I found this to be a lot more effective. It was about $6 or so and lasts me about four months. I put it on overnight and wake up with substantially smaller and less red spots, if they aren't cleared up completely by this product.
Another product I've been loving is Trader Joe's Spa Tea Tree Oil. I bought this a few weeks ago to use on an infected piercing (my poor tragus :( haha) but had a pimple that just wouldn't go away no matter what. I absolutely despise the smell of this and find it really strong, but I've heard that some people (like my mom for example) love it and find it to be invigorating. I take a q-tip and soak it in water and then dip it into this jar and apply to my pimple. I use both sides of the q-tip (you do not want to double dip with this) and repeat the process on each side of the q-tip. I then let it dry and the next morning, anything that was there the night before will have completely vanished! I adore this product and truly think that I can put up with all the negatives because of how fantastic the outcome is, but be warned that this smells and is VERY drying. I apply moisturizer constantly when I use this product. When my skin was particularly bad a few weeks back, I took a cotton ball soaked it in water and then poured a bit of this on there. I rubbed it all over my face and used it as a toner. This STUNG a ridiculous amount regardless of how much more water I used (water:tea tree oil ratio). After about a minute, the stinging subdued immensely and I patted my face with a tissue and slathered on loads of lotion. I went to bed and woke up that morning with the softest smoothest skin! I don't recommend doing this often because of how drying it is, but whenever I have, my skin looks great.

Makeup Remover- Ponds Cold Cream

I adore this makeup remover! I slather it all over my face and wipe it off with a tissue. I know a lot of people rinse their face after that because they don't like the film. I will sometimes rinse afterwards, but when my skin is extra dry, I won't rinse and just go to bed. My skin will be very supple, soft and moisturized when I wake up :)

Moisturizer- Up & Up Dual Treatment Moisturizer Oil Free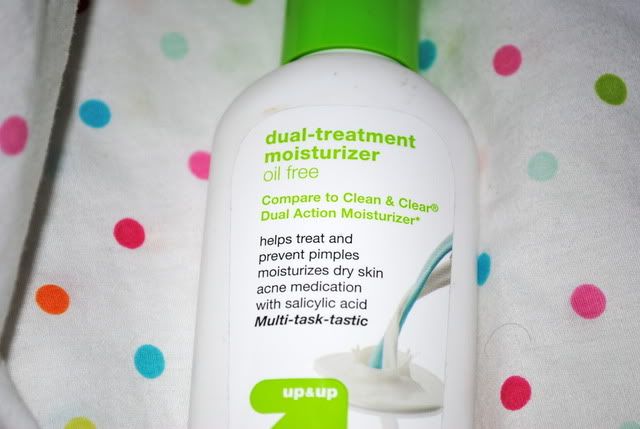 I love this because of how moisturizing it is and how cheap it is! I also love the fact that it's oil free and has treatment in it as well. I really slather this in and it does a great job of keeping me moisturized without making me oily or shiny.

Sunscreen- Neutrogena Ultra Sheer Dry-Touch Sunblock Spf 30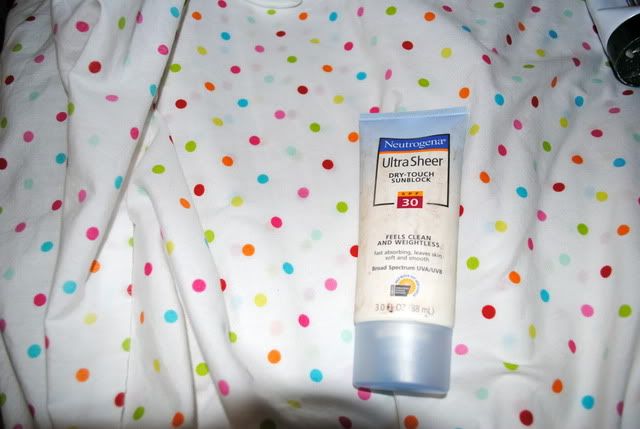 I've been trying to use sunscreen daily as I know how important it is. This one is quite good and was around $8-10 I believe. It does what a sunscreen should and makes my face soft and smooth, but my favorite is a Philosophy one which moisturizes amazingly. I have it in my bathroom somewhere, but it is just too expensive for me to justify using so often. I do use it on holiday or when it's very sunny. Otherwise, I just use this one.

I hoped this helped you! What face products do you love? Which do you hate?

Take care lovelys xxxx