Hey girls, I have a lot of upcoming posts for you which I'm excited about :) I will respond to all your comments asap!<3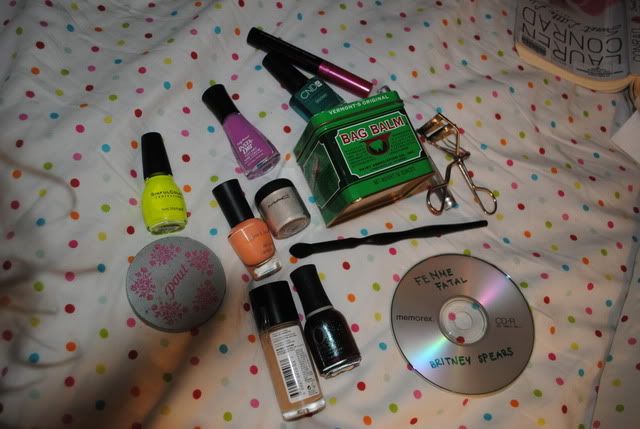 I'm going to split this up into categories...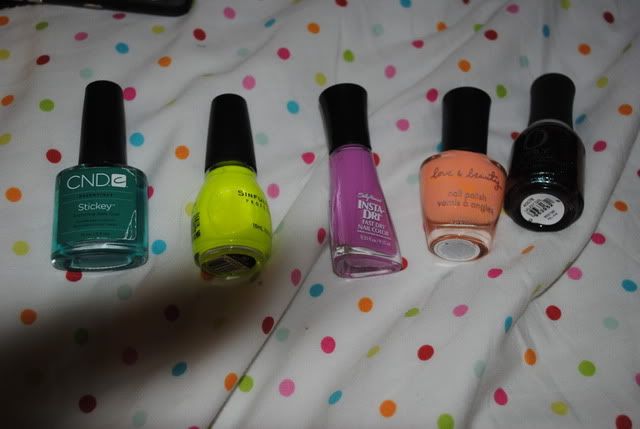 I have been loving brights and pastels for the month of March and now that the weather is getting even warmer (especially in SoCal), I will be sure to wear the brightest colors I can find, as well as the prettiest pastels.
From left to right:
CND (Creative Nail Design) Stickey: I adore this product! It is designed to be used as a base coat that's extra strength; it is supposed to "anchor" the color to your nails. I have a HUGE problem with my nailpolish chipping no matter what I do and I have found this to really be a lifesaver. I use it, apply two-three coats of my nail polish, apply this and THEN add top coat. It only is one more step and really helps when you make this basecoat-color-basecoat sandwich :)
Sinful Colors in Neon Melon: I have been going through a huge neon and pastel phase lately. I have a few neon yellows in my stash, but this is my favorite. It only costs $1.99 and is so opaque and vivid. It has no shimmer and the color is a true neon yellow.
Sally Hansen Insta-Dri in Raspberry Race: I just picked this up at Target a few weeks ago. This polish, which retails at $4.99, reminds me a lot of Essie's Grenadine, a color I had been wanting to pick up. This shade is a purpley-pinky orchid color and I wasn't sure how it'd look on my nails. I ended up loving it :) This is my first insta-dri and it is literally COMPLETELY opaque in one coat (I use two anyways, but it made no difference) and dries so quickly. I love it!
Love and Beauty (F21 brand) in Light Orange: My last post talked about my other F21 nail polish I tried out and I love this one just as much. The color is a soft peach that is such a great quality; very smooth and easy to apply.
Orly Nail Color in Galaxy Girl: I heard so many raves about this polish and when I finally saw it in my CVS, I snatched it right up! This color reminds me of my favorite eyeshadow (MAC Blue Brown/TF Label Whore-I love them both and theyre the exact some color)...it is a brownish red with strong flashes of blue and green. So unique and gorgeous! With one coat, it was more red, while two coats made the flashes of color stand out. Three coats made the color dark brown with dark flashes of green and blue. I paid about $5 for it and I love the color. The formula is average.
Sally Hansen Raspberry Race: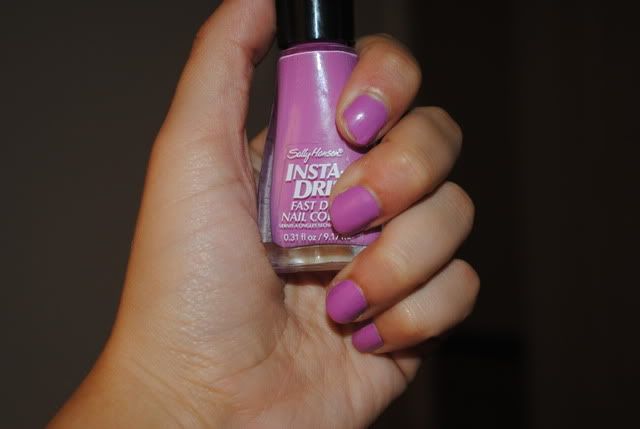 Orly Galaxy Girl (NOT my picture!):
Pout Apricot Totty Blush-I adore this hot coral pink blush! I have a review on it HERE :) I have continued to use this most days this month, it brightens up my face PERFECTLY and you only need the smallest amount :) Since it is a trend for Spring, I will be sure to use it in the upcoming months too
MAC Vanilla Pigment-This was my first pigment from MAC and after two years, I still adore it. I use it as a highlight color on my browbone as well as brightening up the inner tear duct. I also sometimes mix this with my foundation to make my face emit radiance :) My favorite thing about this product is that it's not shimmery or glittery, but GLOWY! My favorite way to use it is to apply to my cheekbones and down the bridge of my nose, it looks like I have a radiance coming from within my skin. You only need the smallest amount, I love it!! It lasts forever too :)
Revlon Colorstay Foundation in 180-I started using this foundation about two and a half years ago. I never found my perfect shade since most of the colors have a pink undertone, while mine is more on the yellow side. Regardless of this, I continued to use it (which was NOT a good look at all) because of how much I loved the coverage, the finish, the staying power, etc. About a year ago, I strayed and started to accumulate tinted moisturizer as I feel like my skin really doesn't need much coverage whatsoever. After seeing a FOTD where someone used this, I rushed out and bought it because a)it looked AMAZING on her and b)her skin color seemed similar to mine and we both had yellow tones. The new shade is perfect for my skin tone (NC25-30 with yellow undertones) and looks absolutely FLAWLESS. It has amazing coverage and lasts for ages without touchups. I use this when I go out at night or want my skin to look perfect :)
Rimmel Lash Maxxx Mascara-I am in LOVE with this mascara. The wand is literally a comb. Not like lashblast but an actual baby comb which sounds scary but its not LOL It helps make my lashes seperated and soooo long. I have never used a mascara that made my lashes this long before, they literally touch my eyebrow bone when I use it! My lashes are average in terms of length and volume. Because this mascara doesn't provide enough volume for me (I like my eyelashes to use fake when I use mascara) I layer another mascara on top of it (lately, it's been Rimmel Max Mousse)..this is definite HG and completely perfect.
ELF Clear Lash Mascara-Lately, my brows have been my obsession. I have struggled with my brows my entire life and finally, after going to an amazing waxer, my brows are one of my favorite things! After filling them in with powder, I brush this over them and they stay put all day. Only $1 and keeps my eyebrows soft not crunchy or hard feeling
MAC Eyelash Curler-After trying many eyelash curlers that received plenty of raves (ELF, Shu Uemera, Shiseido, etc.), this is my definite favorite. It curls my lashes PERFECTLY and mine has lasted two years with no replacement pad yet :) Literally transforms my lashes to the point where a mascara I normally hate, now looks great because of the curl this gives my lashes.
Category four: Miscellaneous/Multi Purpose
Britney Spears new cd;)-I absolutely ADORE Britney Spears, I don't care what anyone thinks of her, I've been a fan for ages :) Yes, I spelled the fatal wrong on the disk LOL It was early in the morning! Her new CD is fantastic, if you haven't downloaded it yet, you need to
Sonia Kashuk Fluffy Blending Brush-This brush is total 100% HG. I use it for literally everything: blending out my crease color perfectly, applying under eye concealer flawlessly, and applying my highlight color! It is so soft and definitely rivals my MAC, except this was under $10 at Target. I have a lot of Sonia Kashuk brushes and none have disappointed me.
Bag Balm-Ah how I love this balm. This is HG for me as well :) A huge tub is $9 and will literally last you for ages! I apply this EVERYWHERE: dry spots on my face (this does not break me out at all), my feet at night, my lips when they're chapped or as an overnight treatment, my body, my cuticles,my hands etc.While it's great plain, I love mixing it with lotion, it makes it last so much longer and makes it so creamy and long-lasting. It sinks in very quickly and you only need a small amount! Love it, definitely try it out :)