Hi girls! Here, I want to show
how to get soft silky skin!
My skin tends to be quite normal, except for in the winter when it becomes incredibly dry. I love soft smooth skin that looks radiant and supple and is literally soft to the touch. Because of how cold it is, I have been using trial and error to find something that would give me everything I want and have finally found what products I love that work for me that will hopefully work for you too :)
Body Wash- Harmon Face Values Extra Moisturizing Body Wash

I purchased this body wash from Bed, Bath and Beyond for about $3 or so. For Winter, this keeps my skin so lusciously smooth that I don't even need to follow up with lotion if I don't want to. This is the generic Bed, Bath, and Beyond version of the Olay Complete Body Wash (or something like that!). I don't remember the exact name, but I chose the generic version as it was bigger than the Olay one and about a dollar or two less! It is unscented and gives a rich creamy lather that I love.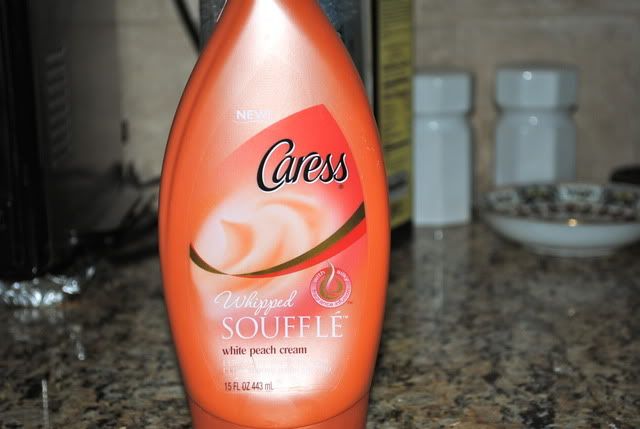 In the summer, I use Caress Whipped Souffle as it is a bit lighter than the Harmon/Olay one making it perfect for the warmer weather. The smell is definitely subjective. I first loved it, then didn't use it in forever and hated it, and now love it again. It is a very warm peach, if that makes sense. It smells like warm peaches and cream, which threw me off because I was expecting more fruity (vs. cozy). But it works amazingly so definitely smell it before you buy it! It also comes in different flavors.
Body Scrub- LUSH Buffy

[IMG]http://img.photobucket.com/albums/0903/Underworldfairy/lush/buffy.jpg[/IMG]

(borrowed from the internet as my bar is used to bits:( waaaah lol)
My favorite body exfoliator and Lush product in general is Lush 'Buffy' without a doubt. It smells like vanilla coconut and does such a great job at moisturizing and exfoliating at the same time. Because it is expensive, I don't use it as often as I'd like but if you are willing to spend the money, I would definitely reccomend it! I use it after I wash my body and scrub it on. I leave it on for about a minute or two and then very gently (and quickly!) rinse it off. I don't wipe it off, just rinse. I then get out of the shower and very gently pat my body dry. I have found that this way leaves my body the most moisturized.
Because of how often I exfoliate (4-5 times a week), I end up going through product very quickly. I have another scrub in the shower that I use more often which is Freeman's Body Sugar Scrub in Pomegranate. It smells delicious, but be warned it is not moisturizing. When my mom used it, she told me she found it moisturizing, but personally, it is not enough for me at all. It's quite good at exfoliating, is dirt cheap (~$2.50 or so) and smells delicious, but I am not sure I would repurchase as I like something a bit more oily. NOTE: This works 1000x better when used on dry skin, so before getting into the shower, pop some of this on and then rinse it off when you step in :)
Body Lotion- Olay Quench Body Lotion deep moisture with cocoa butter, jojoba and vitamin B3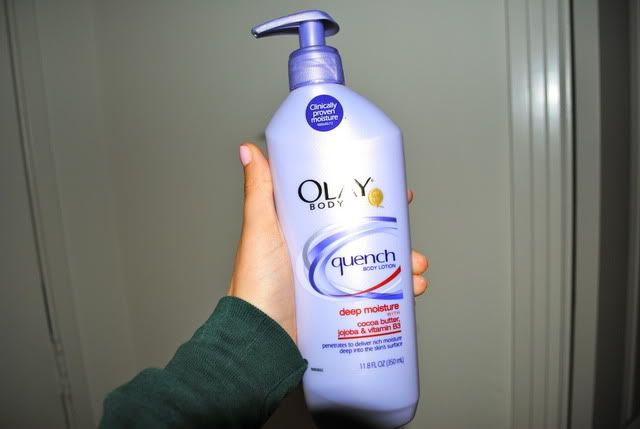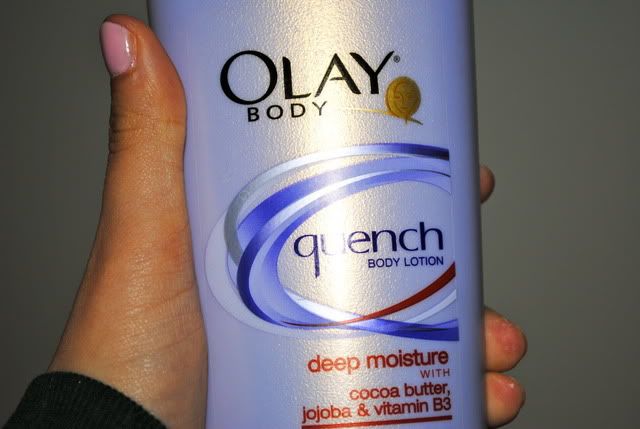 I have been on a quest to find the perfect body lotion for ages. While I'm not sure this is the absolute best on its own, in conjunction with the other body products I use (and mention in this post), I will continue to re-buy as I do love it. It has a faint smell of vanilla, but it does not linger on the body. I have a big issue with body lotions because I find that most leave behind a film, sometimes sticky, that I absolutely hate. I also like my skin to feel very very soft and moisturized and I have not found many lotions that do this for me. I apply the Olay right out of the shower to my entire body and wait about a minute and then get changed. The lotion needs about that amount of time to soak into my body and then I'm good to go!
I have heard that body butters are very effective at keeping dry skin moisturized as well. Hearing this, I decided to venture to The Body Shop and picked up three. I got a large jar of the Hemp Body butter (not pictured), as well as two mini jars (one was Coconut, while the other is Shea). My entire family AND my boyfriend adore these, but for some reason it doesn't work with my skin. It leaves a greasy film on my skin and never seems to sink in :( any tips or tricks for these that you girls have? I will say that the coconut smells amazing and the shea seems to work the best out of the three. The hemp smells terrible imo, but is known to be the most moisturizing.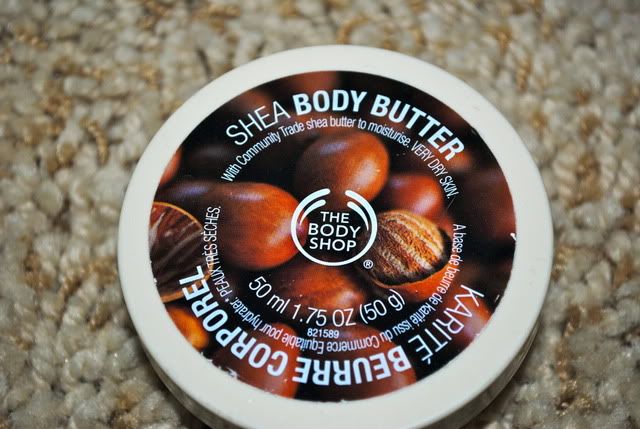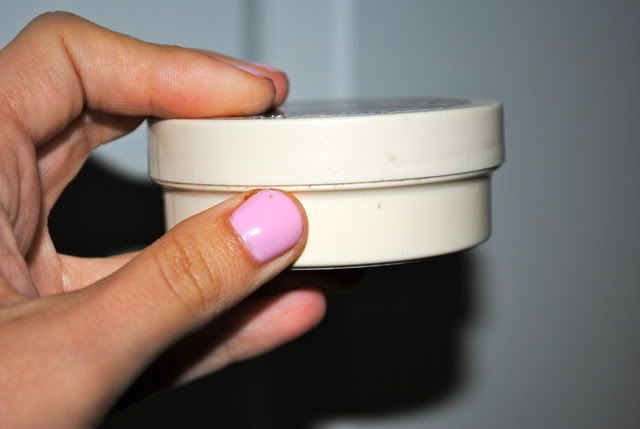 (to show how small the mini jars are)
Body Oil- Up, Up & Away Baby Oil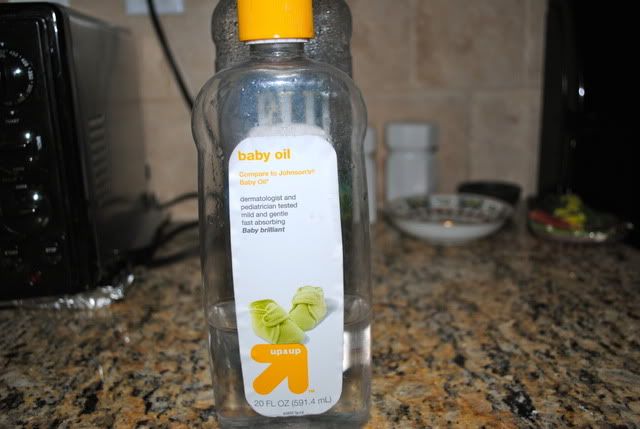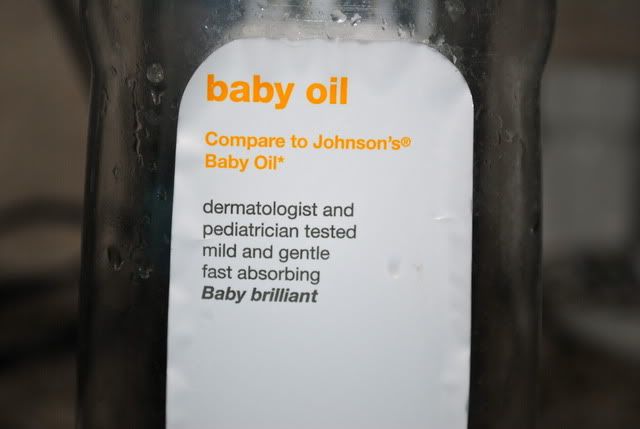 I love this body oil and think every girl should have a bottle in their bathroom. I purchased this for only $1 at Target and it is the generic/Target brand of Johnson's Baby Oil. After I wash my body, I rinse off and then slather this all over my body, focusing on my legs and anywhere else I shaved. I don't rinse or pat this off, I just get out of the shower, put on my bathrobe and brush my hair or something. I want to give it ample time to sink in, but I don't find that putting on my bathrobe takes it off or anything like that. This product leaves my skin so silky smooth and I will continue to repucharchase forever. I have heard that many people use this as an eye makeup remover as well, but I can't vouch for how well it works as I have never tried since I am satisfied with my makeup remover I use (reveal in upcoming post!). For only $1, I don't think people have anything to lose with this and should definitely give it a try!
Hand Soap- Softsoap Elements in Milk Protein and Honey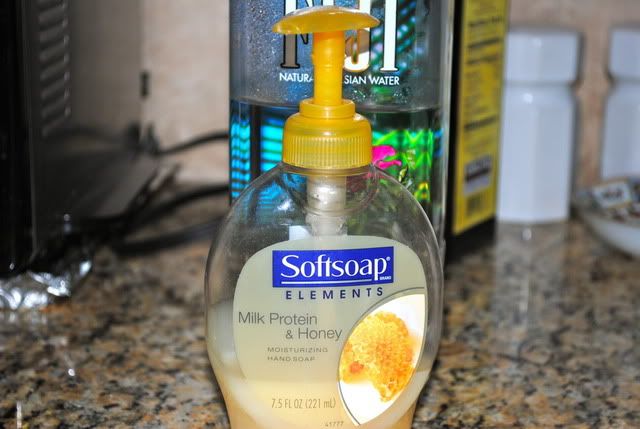 I wash my hand so often, and because of this, my hands can be especially dry and raw. About two months ago, I switched to this hand soap and am in love! The formula is divine and so moisturizing. It also smells delicious...like honey :) It was very cheap from Target, I think maybe $2 or so? Since using this, my hands stay moisturized and soft which is big for me.
Hand Scrub-Booth's Honey and Almond Hand Scrub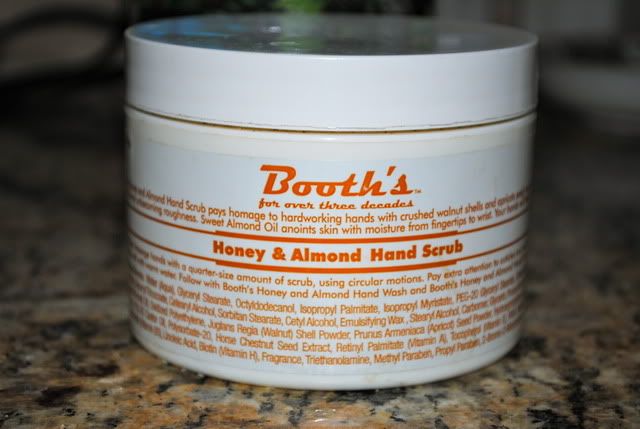 I adore this hand scrub!! I got it at Target about a year ago and haven't been able to find this since :( But if you see it, snatch it up! It is a very grainy scrub that smells of almonds. I apply this to my hands (either dry or damp depending on the amount of exfoliation I'd like) and then rub it in for about a minute or so. I then rinse them off, and apply hand soap and hand lotion. This product works miracles and makes my hands SO soft.