Hi hunnies! I have a ton of great posts coming up, but thought I would start with this review.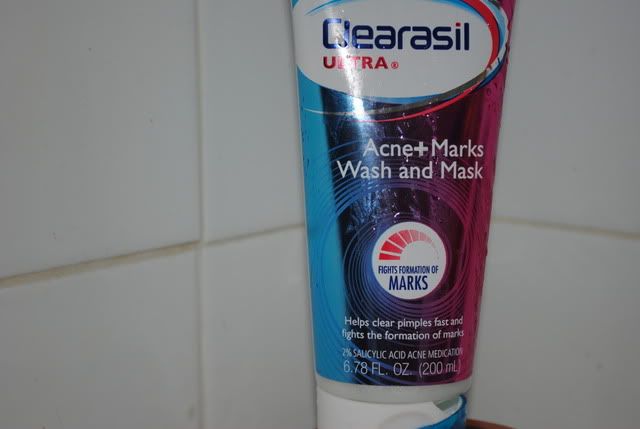 I was running low on my Clearasil Ultra Face Wash last week, so I ran to Target. Me, being in a rush as always, didn't realize I grabbed the wrong one until I got home! Instead of the usual face wash, I grabbed the Acne+Marks Wash and Mask. I was very intrigued as I love multi tasking products and am OBSESSED with the original face wash so I thought I'd try it out :)
*Review for that one
here
*
I searched for reviews on this new product, but could only find one on makeupalley and only a couple on other blogs so I thought I'd let you girls know my thoughts on this. This is supposed to be use once a night as a wash (you could use 2x/day as well, but I found that too drying) and twice a week as a mask. To "active" it in mask form, you're supposed to leave it on for one minute longer. That's it. I was a bit skeptical because I already leave my face wash on for about 30 seconds, but decided to leave this on for about two or three minutes.
WARNING: The face wash will not dry like a normal mask-it will feel slightly tacky. I thought it would be kind of hard or even dried up and crumbly in some areas, but that was not the case.
After using this for the past week (and using it as a mask every other day), I can gladly say this has replaced my usual HG Clearasil Ultra Face Wash. After comparing the two though, I found
they are the exact same product!
Same ingredients, word for word, and in the exact same order. I am not sure if this one will replace the other because they are the same thing.
Leaving it on as a mask has made it even more HG worthy than normal...I have some acne scarring on my cheeks but this seems to have made them fade almost 80% in the last WEEK! I love this product and would definitely reccomend. If you have the other face wash, don't bother picking this up, just use your current one as a mask; but if youre running low on the other or haven't tried either, I would definitely reccomend this.
What skin care have you guys loved lately?