hi girls! sorry i havent blogged in the past few days, ive been with my boyfriend and didnt have access to a computer :(
anyways here are some of the things ive been reaching for CONSTANTLY the past few days :) Sorry in advance for the dirty brushes :(!

Milani Liquif'eye Metallic Eyeliner Pencil in Black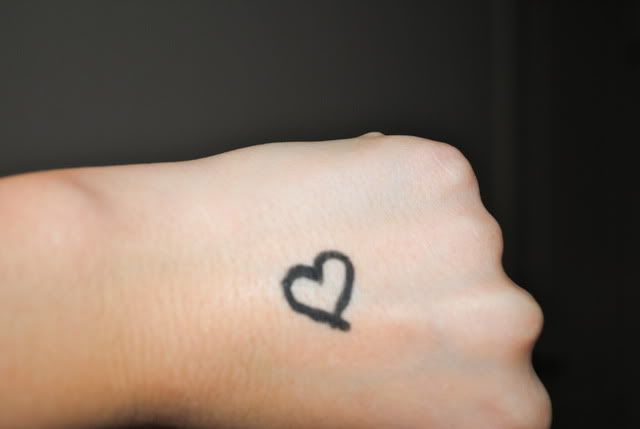 I adore this eyeliner! I bought it about a month ago and while I used it a few times here and there, I have been using it nonstop the past week. It was about $6 at CVS :) I used to love UD zero, but it began to become a little expensive after awhile and it didnt last on my waterline. I have heard SO many raves about this whether it was on makeupalley, youtube, blogger, etc. so I decided to pick it up when I heard it was a dupe to the UD 24/7. It has lasted up to 15 hours on me and remained vivid and looks like it does when I first applied it. It is one of the richest blacks I have ever seen and while it can be smudged in the first 25 seconds, it then sets and becomes ultimately budgeproof. I completely 100% recommend it :) It also lasts FOREVER on the waterline and not many liners do on me!

Top Row: ATG, Mythology; Bottom Row: Woodwinked, Twinks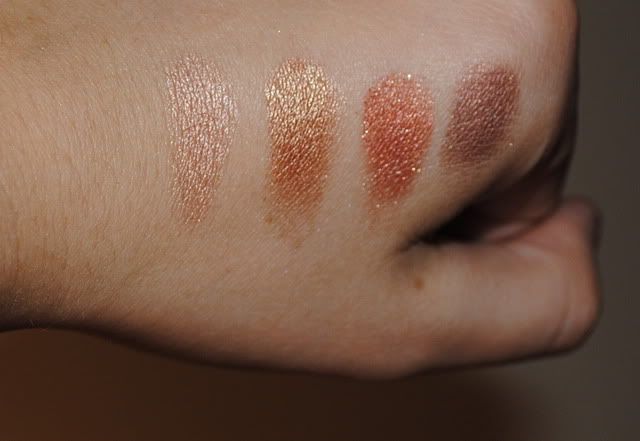 L-R: ATG, Woodwinked, Mythology, Twinks
I haven't used these colors in FOREVER but I have been loving them this past week :)

-All That Glitters is a gorgeous shimmery light gold neutral color. It is incredibly pigmented and blends beautifully. I tried it awhile ago and it gave off quite an orangey sheen for some reason so I passed it on to my mom. I recently started using it again and stole it back from her! Hahah it's not orangey at all anymore, but it definitely leans warm more than neutral.
-Mythology is a color I have struggled with for a bit. When I first bought it, I would pair it all over the lid with MAC Antiqued in the crease which was just STUNNING and made my eyes look so vibrant. I then went through a phase where I would wear a brightly colored liner (UD Covet, Sephora chubby eyeliner in a slate gunmetal shade, etc.) with a taupe eyeshadow in the crease (MAC Satin Taupe) so I forgot about it. Although it is a lustre, it is still very pigmented, but I find it better to pat it on the lid and pack it on that way vs. brushing/sweeping it on. I
have been wearing this on the lid and adore it! It also looks fab wet.
-Woodwinked is the next color in this palette. It can take on a very orangey tone on some people but it doesnt really do that to me fortunately. This color is so metallic and pigmented and is just gorgeous. I love wearing it on the lid with a dark brown or black on the outer lid :) It also looks great with bronze/blacks/blues/greens/purples...it is so incredibly versatile.
-Twinks is a stunning plum colored shadow. Like the others, it is very very pigmented and blends wonderfully. I've heard its the plum version of sable; I can kind of see this but Sable made me look tired where as this looks fantastic. It makes my eyes look very green. I wear this as a liner, on the lid, in the crease, or in the outer corner. It honestly looks great ANYWHERE on the lid.
When I want to use all the colors together, I apply ATG as a wash up to my brow bone and then pack it on in the inner corner and inner half of the lid. I put woodwinked on the other half of the lid and then on the very outer part of the lid, I use mythology and sweep some into the crease as well. I then put Twinks in the outer corner of the eye. On the lower lid, I apply ATG, Woodwinked, Mythology, and Twinks in that order.
MAC eyeshadow in Beauty Marked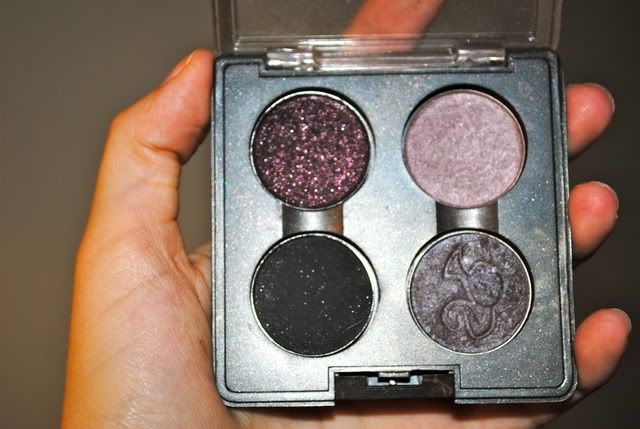 Top left.
swatched dry, wet, over NYX Milk (a white base)
I love love love this eyeshadow!! I bought it when I first started getting into MAC around 5 years ago. When I first bought it, I thought it would turn out how it looks in the pan and unfortunately, it doesnt unless I put a red base underneath it and it further brings out the colors if I use it wet. When I use it dry, I love it just as much! It is a sheer soft black with red sparkles which don't show up too well, but catch the light/out in the sun. It can definitely be built up to be a dark rich black. It is also very easy to blend which is why I love and is less than I can say for MAC Carbon which I have and dislike immensely. I also love how it morphs to the colors I use with it...when I use it with a blue on the lid and layer Beauty Marked on top, it becomes a dark shimmery black blue, when I put it over purple, it turns dark purple/maroon. It literally changes to whatever color you use it with, I love it :)


I bought this brush a few years ago and hated it simply because I didnt know what to do with it! I though it was a waste of $19. I've started using this again and I love it! It's great for smudging colors out, defined crease work, outer v, highlighting inner corner, smudging liner, applying color to the lower lash line, etc etc! It's fantastic :) Not sure I'd spend $19 on it if I had to do it again as there are cheaper dupes, but now that I have it its fab :)

Sonia Kashuk Highlighting Brush

Without a doubt my favorite face brush and definitely one of my top 3 favorite brushes of all time (as well as the MAC 217 and the Chanel eye blender brush). It literally makes my face appear flawless. It was $13 at Target and definitely up to par in terms of quality with my MAC, Chanel, Laura Mercier, etc. brushes. I'm sorry it is so disgustingly dirty, the bristles are usually white I really need to wash it:( I have two-one to apply my bronzer and one to apply my foundation. It really spreads around my foundation so beautifully and buffs it into my skin leaving it looking flawless. I use it to apply my contour and it really does all the work for me. It is so fantastic, I'm completely love it :) I would recommend this brush without a doubt.

MAC Cream Color Base in Hush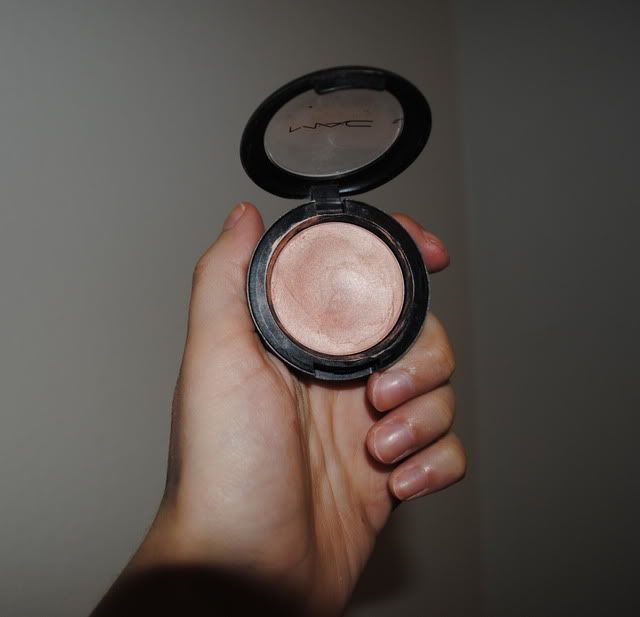 I cannot express how much I love this product. It is a gorgeous peachy color and leaves just the most beautiful sheen. It can look natural or more pronounced depending on how much you put on. I apply this either under foundation or on top of it depending on the look I'm going for. The MA at MAC told me that the Victoria Secret models use this on the runways and in photoshoots (I read this on makeupalley as well in one of the reviews as well as from my MA so I think it might be correct) and I can definitely see how it is true. It is the most perfect stunning highlighter ever! The consistency is just great, its not tacky at all, just light and flawless. I apply this on my cheekbones, done my nose, on the tip of my nose, on my cupids bow...everywhere! I use it a lot and there is still a ton of product left because you really dont need to use that much. Love love love ♥
What are some of your recent favorites? Have you tried any of these? Do you like them?
xxxxxx