Hi lovelies!
My hair is something I take a lot of pride in due to the fact that it's quite long (about 1/2 an inch above my bellybutton), but not stringy, mangy, or full of split ends. It's taken me a while to find the perfect combination of products and I think I finally have found them :)
Hopefully this helps some of you xxxx
My Hair Type: My hair is fine, but I have a ton of it. It is virgin hair (in other words, its never been colored) and while it isn't oily, I generally need to wash it every day, but I can get away with other day sometimes if I'm lucky. The ends of my hair can be quite dry as well. It is also straight.
Here are a few pictures, please ignore how frizzy it was! I had the humidifier on in my room and tried to smooth it out with my hands making it worse lol just focus on the length ! x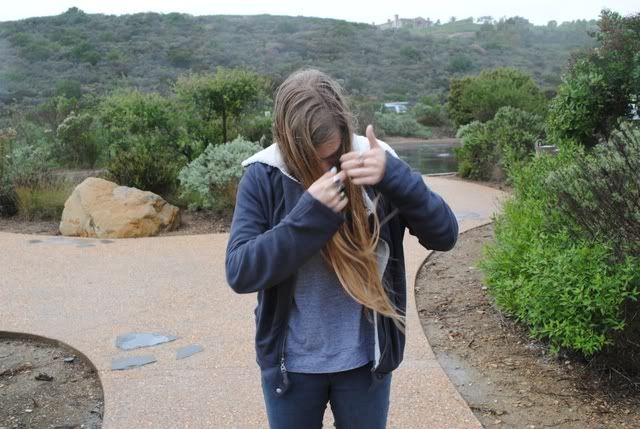 Shampoo-V05 Moisture Milks in Strawberries & Cream
I absolutely adore this shampoo! I used to use quite high end shampoos in the past (TiGi, Nexxus, etc) and found that they were getting a bit pricey as I go through shampoo rather quick. As I was browsing my local CVS, I found this and decided I'd try it because of how cheap it was (It was on sale for 69 cents! Although when it's not on sale, its still only 99 cents :)) It smells of strawberries and vanilla cake, it's absolutely delicious and it lathers so well and leaves my hair very moisturized. I love it and find that it does as well as a job as my previous higher end shampoos.
(its not this gross of a green in person, promise lol)
Once a week, I like to use a bit of a clarifying shampoo just so I can get a real deep clean and thoroughly remove all the products from my hair. I have found that I need to keep my hair quite moisturized to have it look nice this long (and not stringy!) so I try to avoid shampoos that are very clarifying. The shampoo I like to use is another V05 one and is called the Tea Therapy Smoothing Shampoo in Healthful Green Tea. I love this shampoo as it doesn't strip the moisture out of my hair at all (something I find most clarifying/deep cleaning shampoos do). This was also 69/99 cents :) Something to note is that this doesn't smell like green tea! It actually smells like fresh granny smith apples :)
Conditioner-Dove Damage Therapy Daily Moisture Conditioner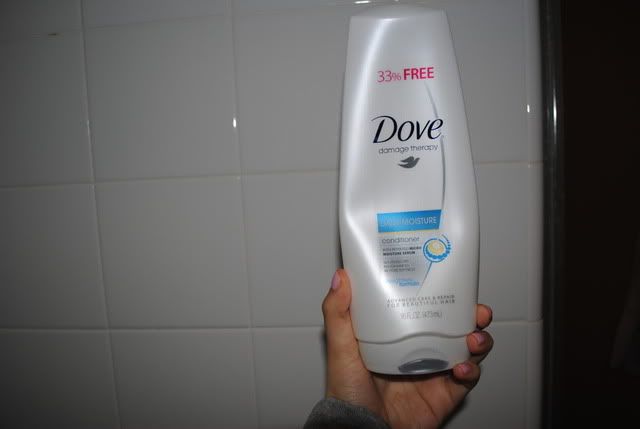 I recently started using this conditioner about a month and a half ago and I love it. I am VERY picky with conditioners as I expect it to moisturize, detangle and smooth, yet not weigh my hair down (quite a tall order lol). This shampoo is about $6 and worth every single penny. I would honestly spend loads of money on this conditioner, it is that good. There is a very faint scent that I can't quite put my finger on, but it just smells nice and clean. I was scared that this would be too heavy to use every day, but it's not at all. My hair can be weighed down very easily and this leaves it very bouncy, yet moisturized. My mom's hair is thick, curly and colored, and she loves this too!
TIP: My hair used to be quite damaged from a number of things. My hair dresser told me that conditioner needs to be on hair for about 10 minutes before it can really soak in/your hair can get the proper benefits. I thought that seemed a bit excessive at first, but it's truly changed my hair for the better. I suggest you try it :)
Protein Treatment-GVP Reconstructing Conditioner/Joico K-Pak.
I adore this protein treatment!! It is the GVP (Generic Value Products) GVP Reconstructing Conditioner which is the generic version of the Joico K-Pak. They are the exact same products (same ingredients, same everything)...as you can tell, I'm a huge fan of buying generic things. I feel it is quite a waste to spend money on packaging, etc if you don't need to. I got this for about $6 while the Joico version costs around $20. My hair is very long and can get quite brittle on the ends. After shampooing and conditioning my hair, I apply this to the bottom half of my hair and leave it in for about five minutes or less. (sorry the letters all rubbed off! They do rub off quite easily when it gets wet, but that's not something I care about too much).
It is VITAL to follow with a conditioner after this...if you don't your hair will be left very crunchy and dry. I use another Sally's GVP Product called GVP Conditioning Balm which is the generic Sally's version of the Matrix Biolage Conditioning Balm. I adore this because it instantly makes my hair feel so silky. After I rinse out the reconstructing conditioner, I apply this to the area where I put on the area where I put on the reoncstructing conditioner. I leave it on for about 5-7 minutes and then rinse it out. It smells SO good like bananas or something lol so so so delicious!
Deep Conditioner-Neutrogena Triple Moisture Deep Recovery Hair Mask
I like this mask, but I'm not sure I love it. It does a good job of keeping my hair nice, but I'm not sure I love it. It's about $8 and I need quite a bit to cover all my hair and it ends up running out quickly. If you hunnies know any great deep conditioners, please comment below as I'd love to try out a new one! :) For what it is, it's good and combined with my amazing conditioner, it's not terrible :) I use this about once or twice a week and use the protein/balm about once every other week or once every three weeks.
Detangler-Suave Kids Detangling Spray in double dutch Apple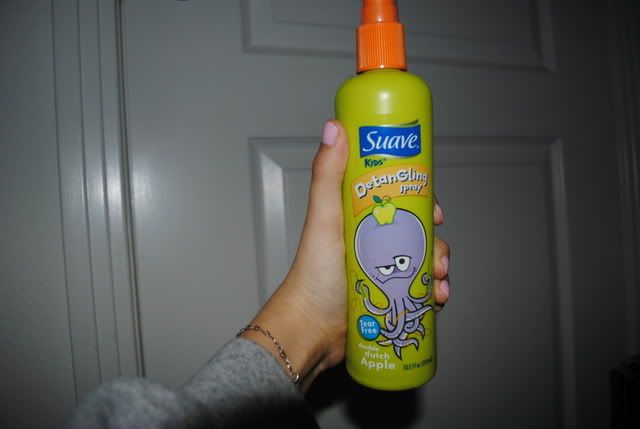 Ah I LOVE this detangler! While my conditioner does a fab job of detangling my hair, because of how fine my hair is and how much it is, my hair tangles SO easily. And even after I comb out all the tangles, it gets knotty after literally five minutes. Most frustrating thing ever LOL. This detangler was about $1.99 at Target and smells so yummy! It smells like apple jolly ranchers I love love love it! And it works amazingly :) It doesn't clash with my perfume, yet the smell lingers if someone gets very close to my hair (theyre giving me a hug, etc). So cheap and works amazingly. I apply this on either wet or dry hair, and it's effective either way.
Heat Protector-Chi Silk Infusion

I love this heat protector! I got mine for only $10 or so at Costco, but it usually retails for much more (I think $20 or so?). I use it every day: when my hair is damp before I blow dry, again when it's dry before I curl my hair (if I bother to that day). If I'm just running out the door and can't be bothered to do my hair, I'll still apply this on either my damp or dry hair and it makes it SO soft and silky and smooth!! Be warned it smells like men's cologne, but it goes away after like 15 minutes if you don't use too much. I use about a nickel or a quarters size of product for my long hair which is more than enough. Remember less really is more with this product as too much can leave hair looking greasy.
I hope this helped some of you!!
What are your guys favorite hair products? And recs for a good volumizer? I have none and would love to get one :)
Also...
QUESTION FOR MY NON-US followers:
I'm going to have a giveaway soon and was wondering do you guys have access to Queen Helene where you are? Or to v05 or Plus White? I'm not sure what I want to give away yet, but I think some of my essentials (v05 Shampoos, Queen Helene Mint Julep Masque ♥ , Plus White 5 minute whitening my HG! details soon...)
xxxxx