Hi girls! I have a lot of great upcoming posts for you but I decided I need to write this one right now :)
As you know, I am obsessed with soft touchable skin and have a slew of exfoliators, body lotions, etc and a post on it as well...well lately the one I've been reaching for constantly is Tree Hut Shea Sugar Body Scrub in Brazilian Nut.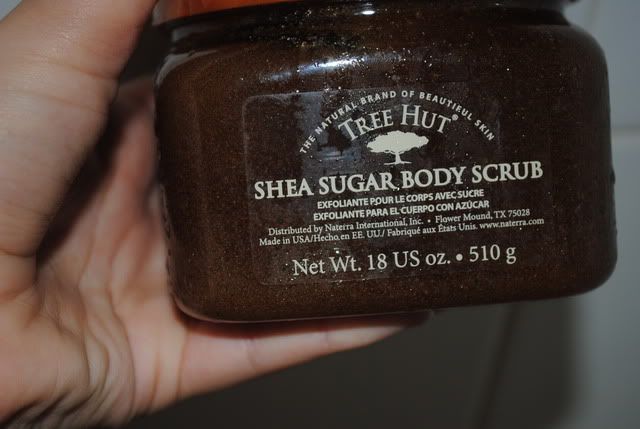 COST- $4 at Walmart
SCENT- My favorite part :) This smells like a rich toffee with notes of caramel and coffee as well. It has a pretty strong scent-not overwhelming, but it is definitely rich. The scent lingers on the skin for maybe 15 minutes but that's about it which I like as it doesn't interfere with my perfumes. On the other hand, my shower will smell like it for a few hours which I like.
EFFECTIVENESS- I adore this scrub because of how well it exfoliates! It has a very thick consistency and spreads on evenly and easily. I do recommend using this before you get wet (i.e. right when you step in the shower) because I find it does a deeper exfoliation due to how it is a sugar scrub and sugar dissolves quite quickly in the water. But I do like it either way, it just depends what mood I'm in, the condition of my skin, etc.

STAYING POWER- While the scent did go away, my skin stayed soft and moisturized for the entire day afterwards. Although, I do have to note, I used this a few times and when my legs were shaved, they hold the moisture in although when they had some stubble, the moisture barely held in :(
CONSISTENCY- The consistency (along with the scent) is one of my favorite things about this product. It is kind of goopy and very very thick. A little bit goes a very long way; a small handful was enough for my entire body and I still had a lot left over in my palm.