LUSH Oatfix Mask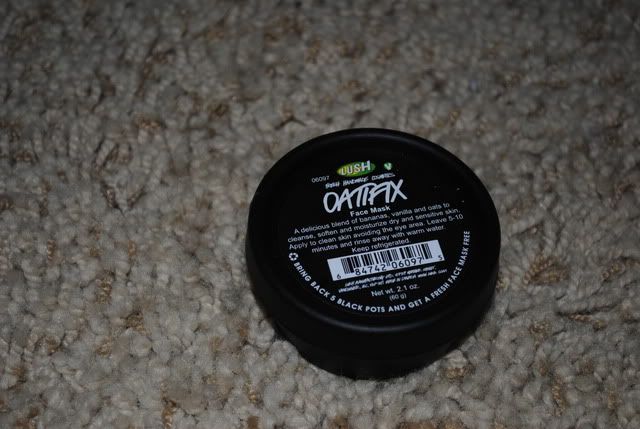 LUSH says: I can't find this mask on the LUSH website for some reason so unfortunately, I can't give the exact description from there. On the tub of the mask though, it states:
"A delicious blend of bananas, vanilla and oats to cleanse, soften and moisturize dry and sensitive skin. Apply to clean skin avoiding the eye area. Leave 5-10 minutes and rinse away with warm water. Keep refrigerated."
Skin type: Normal, but definitely on the more dry side. Quite clear, but with a few light spots left over from old acne spots. Not too sensitive, but when it doesn't like something, it definitely reacts quite quickly.
Cost: $5 for a 2.1 oz tub
Consistency: The consistency of this was odd. It was thick and quite "lumpy", for lack of better word. It had a lot of oatmeal in it, hence the nam, which caused it to have this odd consistency. It also was quite thick, but not particularly hard to blend.
Effectiveness: I thought this was a great mask, but was definitely not a miracle or a necessary mask. It was a nice treat and definitely moisturized my skin for the rest of the day but did not do anything to even out my complexion or reduce scarring, although the mask doesn't state it would. When I washed it off it left a sort of "film" on my face, but it wasn't a sticky or uncomfortable film, more like a soft film? I feel uncomfortable using the word film because I associate it with sticky, heavy, greasy, etc. and this wasn't any of those things. For what it said it would do (moisturize) it did, and it also left my skin glowy.
Scent: Oh my goodness, YUM! It smells like banana bread, so delicious :)
Application: I applied this all over my face and let it sit for 15 minutes. This was definitely not like the typical mask in terms of the feel when it dries. I am used to knowing when a mask is dry due to it feeling tight on my face, as well as dry. This mask was neither of those. It was neither dry nor wet after the 15 minutes. It was definitely dry compared to when I first applied it, but without comparing it to how it was in the beginning, it felt a bit damp. You need quite a bit when you apply and I did not go with the "less is more" theory. I applied this on liberally and barely made a dent. It was kind of difficult to have it go on smooth, but not hard to apply by any means, just a bit more time consuming. To remove, I wet my hands with warm water and then rubbed my face which helped remove the mask, as well as exfoliate lightly due to the oatmeal pieces. That removed about 40%-50% of the mask and then I use a warm washcloth to wipe of the remainder of the mask.
Shelf Life: This mask is said to last three weeks. I still had some after that amount of time and finally finished it about a month after I purchased it (so about a week after the 'expiration date') and the consistency was the exact same and still smelled delicious, but I wouldn't keep it much longer past that. The lady at lush told me the tub I purchased held about six applications worth. I got about 10 or 11 uses out of it and I applied it quite liberally.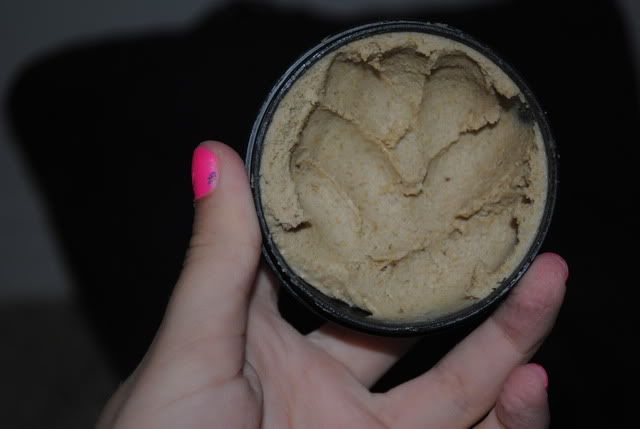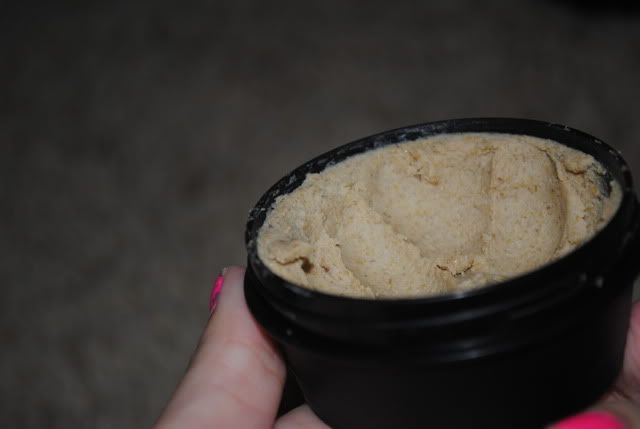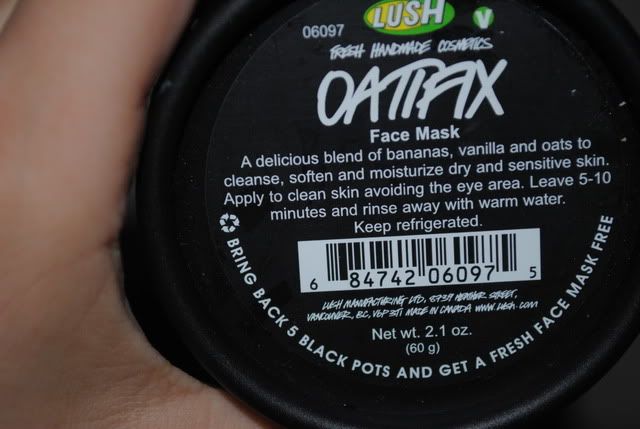 Have you ever tried any Lush skin care? Which? Also, what are your favorite masks?