Hi girls! Hope you're all doing well :) This is NOT the makeup routine I wear every day as this
is
a lot of makeup (although it doesnt feel like it!). Instead, I reserve this makeup routine for night out or when I want my skin and face makeup to look its best. Hope you like it :)
I split this post into three parts: Base (Primer, Foundation and Powder), Color (Contour, Bronzer and Blush) and Glow (Highlight).

Everything all together: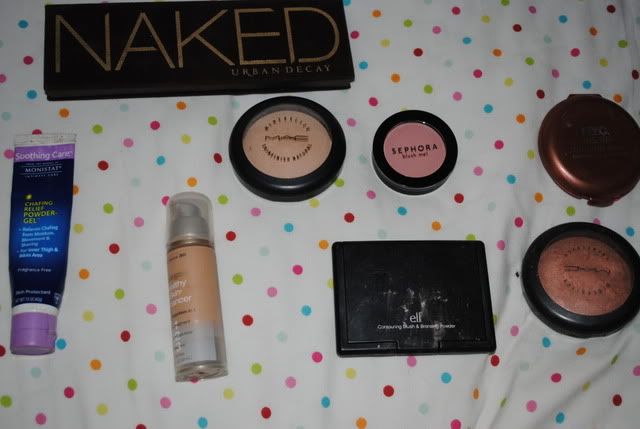 Primer/Foundation/Powder:
Primer: Monistat Chafing Relief Powder-Gel

I was shocked when I first heard that people were using THIS as a primer. A few years ago, when I first started getting into makeup, I was interested in getting a face primer but couldn't bother spending $28 or so. After hearing on makeupalley how this one was a dupe for the Smashbox as they both have the same active ingredient (Dimethicone...a well known silicone). I have used this every time I do my face makeup even on a daily basis. I love it and an amazing dupe for the Smashbox Photo Finish primer :) Only about $7. After I moisturize my face and let it dry, I apply a pea size amount and apply it all over my face. I then let that sit and continue on to the rest of my routine. It helps my makeup last much longer (which used to be a big issue for me) and leaves my skin very smooth so my foundation applies perfectly.

Foundation: Neutrogena Healthy Skin Enhancer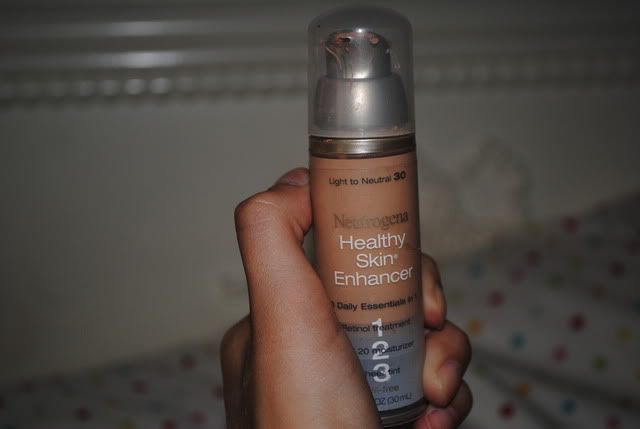 This is marketed as a tinted moisturizer, but it is definitely buildable. It was about $10 at Target. I love this tinted moisturizer because it covers redness in a light layer and for other skin problems, with a dab of concealer and another layer (or two), skin looks absolutely flawless. Be warned- this doesn't look good applied with fingers (which is how I usually apply my foundations), I need to use a brush. I use my Sonia Kashuk Highlighting Brush, which is similar to the MAC 187. This finish is satin and quite glowy, but can easily be powdered down to a satin matte finish.

Powder: MAC Mineralize Skin Finish in Medium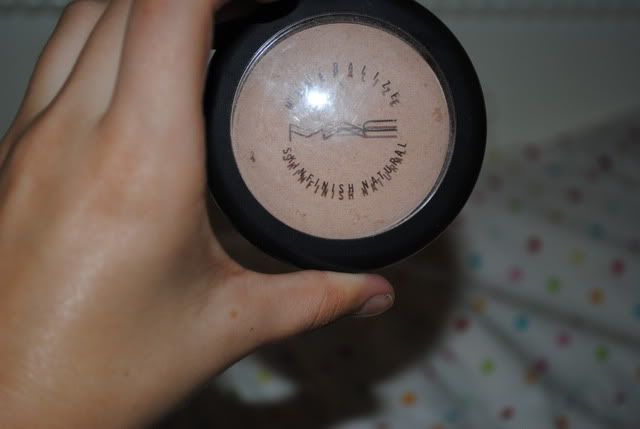 I am absolutely obsessed with this and definitely deserves its own post within the next few weeks. This gives off just the most glowy perfect super model finish. It isn't too glowy and definitely doesn't make one look greasy, but it imparts a glow in all the right places. With a more dense brush (i.e. a kabuki) it gives off enough coverage to work as a foundation. I am in love with this, definitely HG. I am NC25 and wear Medium, but during summer, I will switch to Medium Plus.
What do you guys like to use to achieve a flawless face?