Hi hunnnies! This is part 2 out of the total of 3 posts in regards to what i wear to get an absolutely flawless face. Like I stated before, this is NOT the makeup routine I wear every day as this is a lot of makeup (although it doesnt feel like it!). Instead, I reserve this makeup routine for night out or when I want my skin and face makeup to look its best. Hope you like it :)
I split this post into three parts: Base (Primer, Foundation and Powder), Color (Contour, Bronzer and Blush) and Glow (Highlight).
Everything all together: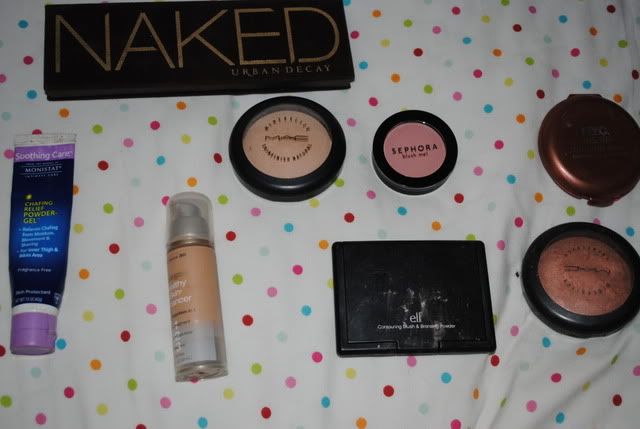 Contour/Bronzer/Blush:
Bronzer: NYC Smooth Skin Bronzer Face Color in Sunny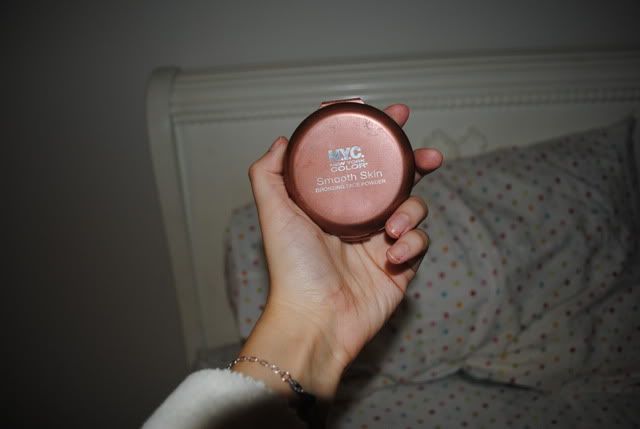 I am in love with this bronzer. I got this for about $3 at Target around 2 years ago and have gone through maybe four or five. Before I used this bronzer, I used a Sephora one which ran around $15 or so. That one gave me such beautiful color but I would run out of it every few months and it would get quite pricey. After hearing so many raves about the NYC one, I ran out and got it and have loved it ever since. It is an exact dupe of the Sephora one, minus the price and the packaging. The NYC packaging is quite floppy but I care more about the product than the actual packaging. This bronzer gives such healthy color to my skin and can definitely be built up (I can use this bronzer in the summer vs. in the winter). It never looks orange either, just gives off a gorgeous brown color :)
Contour: ELF Blush/Bronzer Duo in Blushed/Bronze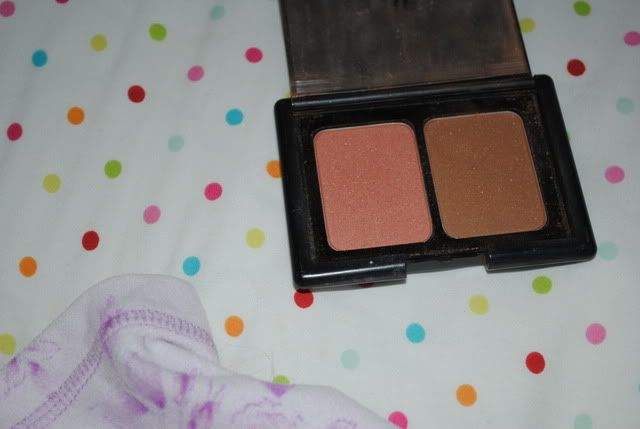 I first picked this up to use as a blush and bronzer duo, which is exactly what it's marketed as. I am NC30 so not pale, but for some reason, the bronze side of this is much too dark for me as a bronzer. Instead, I use it to contour which I absolutely love it for. The color looks quite sparkly and shimmery in the pan, but with a few taps on the side of the compact, the shimmer falls off and you are just left with a gorgeous rich bronze color. I use this to contour and find it does an absolutely perfect job. It was $3 at Target and is said to be a dupe of NARS Laguna/Orgasm duo in terms of packaging, as well as coloring. The packaging is dead on, as are the colors :) I love this, although don't use the blush that often for some reason! Would definitely definitely recommend this, I love ELF products!
Blush: Sephora blush me! in peche tendre n4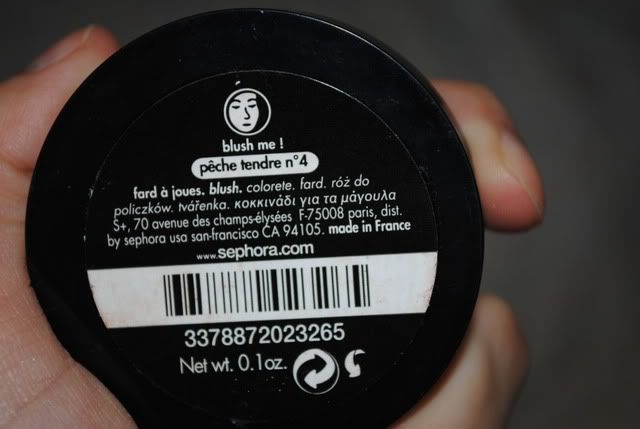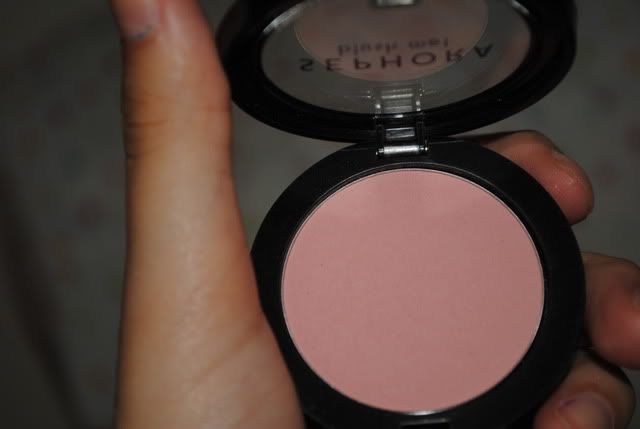 Gorgeous blush!! I am not great at applying blush for some reason. I always feel as if I blend it too much and it then just looks muddy :( Because of this, I stayed away from blush for about a year and a half and neglected all of the ones in my stash and stayed clear from purchasing any new ones. I went to Sephora around two months ago and fell in love with this blush! It is an absolutely gorgeous baby peach-pink color and retailed for $9. The quality is unbelievable and it applies beautifully. I am going to do an in-depth post on this blush as it really is stunning. It also lasts forever on the skin :) I have used this almost every day for the past two months and have not made even the smallest dent. Sephora has a bunch of absolutely gorgeous blushes so I will definitely need to check out the other colors.



What do you guys like to use to achieve a flawless face?